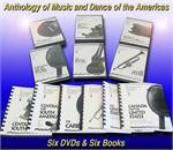 JVC Smithsonian Folkways Americas Collection -- 6 DVDs and 6 Books
---
---
Produced by JVC and Multicultural Media, in collaboration with Smithsonian/Folkways Recordings, this six DVD/six book collection includes 158 performances from Canada, the United States, the Caribbean, and Central and South America.
A 48- to 72-page booklet accompanies each volume and contains background essays on the music and dance of the regions and countries, as well as detailed descriptions, glossaries, bibliographies, discographies, and filmographies.
Released in 1995, this collection contains all new material licensed from existing footage from filmmakers in North America, South America, the Caribbean and Europe and does not duplicate any part of the original JVC Anthology of World Music and Dance. Selections are presented without narration for the greatest musical impact. Each performance is marked with an indexing icon to allow for easy location and convenient video and booklet usage.
"This series is essential for scholarly collections serving all grade levels (yes, kindergarten through Ph.D. programs)" - Library Journal
VOLUME 1
Francophone Traditions
1 Dance Tune, Le Brandy, Philippe Bruneau 1:06
2 Lancers Quadrille, Le Lancier, Madame Audet & Dancers of Orleans Island, Quebec 1:49
3 Medley of Scottish Strathspeys and Reels, Jean Carignan 2:05
4 Longways Set Dance, La Contradanse, Louis "Pitou" Boudreault 1:16
5 Turlute (lilting), My Love is But a Lassie Yet/ Jackson's Bottle of Brandy, Emile Benoit :33
6 Fiddling and Stepdancing, The Woman of the House, Emile Benoit, et.al. 1:09
7 Work Song, Mon pere a fait bdtir maison (My Father Built a House), Marie D. Deveaux :45
8 Reel A Bouche (lilting), Le Reel de Sainte-Anne, Audrey St-Coeur :40
9 Song, Ecoutez-moi, je vas vous chanter un p'tit tour qui m'est arrivé, Lazare Hebert 2:15
10 French Quadrille, L'homme à deux femmes (The Man with Two Wives), Claude Austin, et. al 2:30
11 Stepdancing Reels, title unknown, Claude Austin, Normand Basque 1:22
Native and Anglophone Traditions
12 Inuit Katajjait (Vocal Games), Cape Dorset Inuit of Baffin Island & Povungnituk 1:00
13 Cree Traditional Fiddling, Soldier's Joy', Ray Spencer, Bob McLeod, et. al. 2:10
14 Celtic Folk Song, Anchors Away, Love 1:30
15 Mummers' House Visit 1:32
16 Traditional Christmas Carol, God Rest Ye Merry Gentlemen, Figgy Duff 1:44
17 Sea Shanty, Lukey's Boat, Rik Barron and Dave Panting 1:52
18 Métis Fiddling and Dancing, Red River Jig, Lawrence Houle :51
African American Secular Traditions
19 Children's Ring Game, Mama Lamma Coomma Lamma, Sea Islands Children :57
20 Body Slapping and Flatfoot Dance, Quentin 'Fris' Holloway and John D. Holeman 1:39
21 Blues Hannonica and Shout, Shouting the Blues, Sonny Terry 3:21
22 Folk Blues (12-bar), C.C. Rider, Eddie Kirkland and Neal Pattman 2:45
23 Piedmont Blues, Richmond Blues, John Cephas and Phil Wiggins 2:45
24 Folk Song and Piedmont Finger Picking, Freight Train, Elizabeth "Libba" Cotten 1:30
25 Ragtime Piano, Something Doing, Kerrigan Black 1:39
26 Popular Song/Traditional Jazz Combo, Save the Bones for Henry Jones, Danny Barker, et. al. 2:41
27 New Orleans Brass Band, When the Saints Go Marchin' In, Rebirth Brass Band 2:11
28 Mardi Gras Indian Song, Meet de Boys on de Battlefront, The Golden Eagles 1:50
29 Urban Blues, Did You Ever Love a Woman?, Rev. A.D. "Gatemouth" Moore & Rufus Thomas 2:24
30 Urban (Chicago) Blues, I'm Gettin' Tired Now, Drink Small 4:41
31 Rhythm and Blues Vocal Group, Crying in the Chapel, The Legendary Orioles 2:30
32 Go-Go Dance, Take Me Out to See Junk Yard, The Junkyard Band 1:30
Total Playing Time: (59:18)
UNITED STATES



European Traditions in the New World
1 Contradance, Pop Goes The Weasel, Harold Luce 1:16
2 Ballad & Mountain Dulcimer, The Lakes of Champlain, Margaret MacArthur 3:57
3 Folk Song with Banjo, Old Smokey, Roscoe Holcomb 1:40
4 Appalachian Fiddle Tune, John Brown's Dream, Tommy Jarrell, Mike Seeger, & Alice Gerrard 1:44
5 Appalachian Stepdancing & String Band, Chicken Reel, The Shady Mountain Ramblers 1:06
6 Square, Hook, & Broom Dances, Elmer Davis, Fred Allery, & Albert Roussin :50
7 Traditional Dance Tunes, The Wind That Shakes the Barley (and others), John McCutcheon 2:31
8 String Band, Johnson's Old Grey Mule, The Lucas and Harmon Brothers Band 2:50
9 String Band, Alabama Jubilee, Pappy Sherrill & The Hired Hands 1:20
10 Country Blues, Daybreak Blues, Doc & Merle Watson 3:28
11 Clawhammer Banjo & Vocal, Banjo Pickin' Girl, Lilly Mae Ledford, Mike Seeger, & Alice Gerrard :46
12 Bluegrass Song, John Henry, The Johnson Mountain Boys 1:47
13 Dobro Guitar Instrumental, Cincinnati Rag, Jerry Douglas & Vassar Clements 2:12
14 Topical Song, Black Waters, Jean Ritchie 3:25
15 Topical Cowboy Song, Marlboro Cowboy, Glenn Ohrlin 1:22
16 Terkish (Klezmer Dance), The Jew In Jerusalem, Kapelye 2:48
17 Chalangalang, Kilakila 'o Eke, The Ho'opi'i Brothers 1:57
18 Cajun 2-Step and Song, Oh, Madeleine, Dewey Balfa, Rodney Balfa, & Tracy Schwarz 2:13
19 Cajun Tune with Fiddle Sticks, J'eté au bal (I Went to the Ball), Dewey & Tony Balfa 1:01
20 Cajun Song, Chere Bassette, Canray Fontenot with Michael Doucet & Beausoleil 2:31
21 Old-time Creole 2-Step, Think of Me Once a Day, The Ardoin Family 1:53
22 Fandango, Gilberto Cuiterrez Silva, and Grupo Mono Blanco 2:06
23 Polka & Conjunto, San Antonio Polka Band & The Cardenas Brothers 1:26
24 Ranchera, Voy a sacarme Ia espina (I'm Gonna Take the Thorn Out Of Me), Mingo Salvidar 4:11
25 Texas Honky-tonk Ballad, Soft Rain, Justin Trevino, & Band 4:22
26 Salsa, Tito Puente, Charlie Palmieri, & Orchestra 2:45
Total Playing Time: (58:46)
UNITED STATES



Sacred Traditions
African American Sacred Traditions
1 Spirituals, Take Me to the Water! Glory Glory Hallelujah, Rev. A.D. Moore :42
2 Hymn, You Got To Move, Moving Star Hall Singers 2:03
3 Jurer, Rock-A-Way, Clinvin Jones & Friends 2:21
4 Spiritual, Lay My Burden Down, Cora Fluker 4:02
5 Sacred Harp Singing, My Mother's Gone, Wiregrass Singers :50
6 Congregational Hymn, I Belong To That Union Band, Tony Landis, et. al. 1:26
7 Gospel Groups, Roll Jordan Roll, The Heavenly Jewels 2:25
8 Traditional Gospel, Precious Lord, Rev. Al Green 1:51
9 Gospel Quartet, My God Called Me This Morning, The Four Echoes 3:02
10 Brass Band, Jesus Is All The World To Me, Grace Emmanuel Band 3:29
11 Contemporary Gospel, Can't Nobody Do Me Like Jesus, Dr. Bobby Jones and New Life 7:34
European & Other Sacred Traditions
12 Hula Pa Ipu, Holo mai pele mai Kahikina, Halau 'o Kekuhi 1:59
13 Baptism & Hymn, We Are Gathering at The River! God's Not Dead, He's Alive, Rev. Bobby Akers 2:00
14 Hymn, Beautiful Hills of Galilee, Hazel Dickens 1:35
15 Gospel Duet, Lord, Give Me One More Day, Rev. John & Mrs. Pauline Sherfey 1:51
16 Country Hymn, Mansion over a Hilltop, Frances Edmonds & Patsy Edmonds Bowers 1:59
17 Bluegrass Gospel, I'm Working On A Building, Bill Monroe & The Bluegrass Boys 2:33
Total Playing Time: (43:02)
Barbados
1 Tuk Band, The Troubadors Tuk Band :36
Cuba
2 Fiesta de Guiro, Salute & Invocation to Shangó, Florencio Baro & Group :46
3 Rumba, Maria La O, Los Mufiequitos de Matanzas :52
4 Tumba Francesa, Mason Dance :43
Curaçao & Bonaire
5 Simadan (Harvest Celebration), Simadan Procession & Wapa Dance, Residents of
Rincon :43
6 Seú Celebration, Eric La Croes & Curaçao High School Students 1:18
7 Simadan (Harvest Celebration), Remailo, Residents of Rincon :31
Dominica
8 Children's Ring Game, Sally Go Round The Sun, Children of Roseau :40
9 Children's Ring Game, Children of Roseau :16
10 Jing Ping, Petite Soufrière Jing Ping Band 1:03
Haiti
11 Rara 1:50
Jamaica
12 Maroon Communal Song 1:44
13 Jonkonnu 1:25
14 Rastafarian Song, Fly Away Home, Rastafarian Brethren 2:18
15 Folk Song, Dis Long Time Gal, The Jamaican Folk Singers 1:07
16 Mento Band, Nobody's Business 1:10
Martinique
17 Biguine, Kali & Group 2:18
18 Martinican Quadrille/Biguine Medley, Ban mwen on ti bo (Give Me A Little Kiss), Bwa Kan' Nel 1:12
Puerto Rico
19 Jibaro Ensemble, Cantor de oficio (The Office of Singer), Familia Colón 5:09
St. Lucia
20 Manpa Song, An' bwiye lawo, pou nou fe wadlo lapenn, Members of La Rose 2:44
21 Lakonmè Pitjé, Sèl bagay ki ka fè mwen lapenn (The Only Thing That Makes Me Feel Sad), Ives Simeon & Group 3:02
22 Kwadril (Quadrille), Frank Norville Group 1:05
Trinidad and Tobago
23 East Indian Tassa Group, Trinidadian East Indian Musicans & Masqueraders :28
24 Bele, Donald MacAuley with Guest Dancers and Musicians 2:30
25 Work Song with Tamboo Bamboo Band, Five Thirty-five in the Morning, Andrew Beddoe & Group :54
26 Bongo Dance with Tamboo Bamboo Band :50
27 Calinda 1:15
28 Spiritual Baptist Baptism Rite, Members of the United Brotherhood of Time Spiritual School 2:52
29 Parang, Daisy Voisin & Group 1:57
30 Calypso/Soca, Carnival Killer, Denyse Plummer & Kitchener's Review Tent Band 5:07
31 Steelband (Steel Drum Massed Band), Woman Is Boss, Phase II Pan Groove Steelband 4:11
Carnival Montage
32 Carnival/Street Parade Montage - A mix of carnival sequences from St. Lucia, Trinidad, Dominica, Martnique, Jamaica, Antiqua, Grenada, St. Vincent, Barbados, St. Kitts 3:38
Total Playing Time: (58:40)
CENTRAL AND SOUTH AMERICA
Belize, Brazil, Chile, Colombia, Guatemala, Guyana
Belize
1 Brukdown, Boom 'n' Shine Band 1:50
Brazil
2 Ritual Song/Dance, Da-ño?re, Xavante Indians 1:50
3 Rural Samba Dance, Samba de Roda, Residents of Sobara, Bahia 2:28
4 Religious Possession Dance, Candomblé, Members of a Candomblé Terreiro 4:09
5 Martial Art/Dance, Capoeira de Angola, Capoeira Group 2:28
6 Popular Songs, Meu desespero ninguem ve/Sou homen feliz (No One Sees My Despair/ I Am a Happy Man), Batatinha & Group 2:15
7 Popular Song, Toda menina Baiana (All Bahian Girls), Gilberto Gil & Djalma Correa 1:27
8 Topical Song (Samba), Led Brendão 1:35
9 Samba School Rehearsal & Carnival Parade 3:00
10 Popular Song (Bossa Nova), Aguas do Março (March Waters), Antonio Carlos Jobim 3:10
Chile
11 Ñillatun (Fertility Rite), Pehuenches Indians 4:01
12 Shaman Ceremony, Fiesta de Hueico Chico, Mapuche Indians 3:38
13 Bailes Chinos Dance and Canto a lo Divino, People of Pocochai 5:14
Colombia
14 Flute and Drum Music, Arhoacho Indians 1:39
15 Conjunto de Gaitas 1:04
16 Poro, Brass Band 1:14
17 Vallenato (Protest Song), Nafer Durán 1:26
18 Joropo, Music of the Llanos 1:58
Guatemala
19 Shaman Sacrifice and Chant Diego, Maya Shaman 1:45
20 Shaman Chanting with Flute, Diego, Maya Shaman 2:10
Guyana
21 Masquerade Dancing with Fife and Drum Ensemble 1:28
22 Youth Competition Dancing with Fife and Drum Ensemble, Guyanese Children :50
Total Playing Time: (53:46)
CENTRAL AND SOUTH AMERICA
Mexico, Nicaragua, Peru, Venezuela
Mexico
1 Ritual Song and Procession, Mayan Tajimoltik Carnival Participants 2:41
2 Canción Romántica, Tango negro (The Black Tango), Lydia Mendoza 1:22
3 Ranchera Romántica, Volver, volver, Guadalupe Betancourt with Los Regionales de
Linares 2:52
4 Corrido (Frontera Music), La tumba de abandonada, Los Regionales de Linares 3:02
Nicaragua
5 La Criteria, Various Purisimas (Songs to the Virgin Mary), El Baile de la Indita Lujosa,
Children from Monimbó & Dancers & Musicians from Jinotepe 1:34
6 Los Chinegros, Los Chinegros de Nindirí 1:20
7 El Toro Guaco, Dancers and Musicians from Diriamba 1:49
8 El Baile de Negras, Various Groups of Dancers 3:22
Amazonian Culture
9 Plank and Slit Drumming, Bora Indians 3:17
10 Horn Signal, Manguare Boy :22
11 Festive Dance, Bora Indians 2:27
Andean Culture
12 Shepherd Song Community of Q'eros 1:08
13 Harawi :55
14 Song from Dance of the Pallas 1:09
15 Michicoq (Water Guiding and Cleansing Ritual) 2:51
16 Ritual Music and Dance for Marking Cattle, Festival of Santiago :59
17 Dance of the Chunchus 1:15
18 Andean Carnival Music 1:18
Coastal Black and Urban Culture
19 The Festejo, Mariá Ballumbrosio 2:15
20 Festejo 1:14
21 Zapateo 1:40
22 Hatajo de Negritos (Afro-Peruvian Christmas Dance), Children with Amador Ballumbrosio 1:10
23 Pregón, Abelardo Vasquez 2:35
24 Marinera, Palmero, sube a Ia palma, Wilfredo Franco and Monica Rojas 1:58
Venezuela
25 Male Oratory, Yanomami .50
26 Flute Solo, Panare Indian .20
27 Flute Solos and Duets, Hoti Indians 3:00
28 Joropo, Pajarillo 1:05
29 Carrizos de Guaribe, Pan Pipes 1:30
30 Diablos Danzantes (Devil Dance) 2:03
Total Playing Time: (55:03)
---
We Also Recommend
---