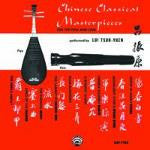 Chinese Classical Masterpieces LAS-7182
---
---
Digital Download available from your favorite site including
Download free liner notes below
Part of the Lyrichord Archive Series - Never before released recordings on CD from the Lyrichord vaults
The late LUI TSUN-YUEN was born of a musical family in Soochow, China. At the age of ten, he took up the study of the Pipa and the Chin with the foremost masters in China and was coached by such musical scholars as Wang Yu-Ting and Hsia Pao-Shen.
Equipped with a prodigious technique, Lui was a sensitive musician who is completely dedicated to his instruments. The only accomplished player in the Western countries, Lui is regarded at home, as one of the few great exponents of these classical instruments. Lui was also a composer and wrote original compositions for the Pipa. Lui played in Hong Kong both in recitals and in radio broadcasts. In Brazil, he was presented on T.V. by the Brazilian Ministry of Education. He also participated in the 1958 Sao Paolo Music Festival in a recital of Chinese classical music. Lui's performance was recorded by the B.B.C. for its permanent record collections. Includes nine performances and the original liner notes from 1965.
Tracks:
1. Chinese Classical Masterpieces - 3:38
2. Snow in Sunny Spring - 10:20
3. Moonlight Over the Spring River - 3:53
4. Chinese Soldiers' March - 7:53
5. Plum Blossoms - 3:20
6. The Lament of Empress Chen - 4:38
7. The Running Brook - 4:21
8. Song of the Frontier - 4:01
9. The Hero's Defeat - 9:51

Lyrichord, in association with Multicultural Media, is pleased to present the Lyrichord Archive Series. This series will make many important Lyrichord recordings of the past available again for the first time in years. These are special-edition compact discs with liner notes. illustrations and photographs reproduced as .pdf files, and included right on the same CD as the audio program. These liner notes can then be downloaded and printed out or saved on any computer.

The Lyrichord Archive Series is designed with students, libraries, educational institutions, music historians and music enthusiasts in mind and is not available in stores. 
---
We Also Recommend
---