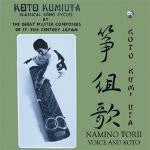 Koto Kumiuta - Classical Song Cycles by Namino Torii LAS-7304
---
---
Part of the Lyrichord Archive Series - Never before released recordings on CD from the Lyrichord vaults

Kumiuta in Japanese means a "set of songs" or "song cycle," and thus koto kumiuta implies a "song cycle accompanied by the koto." It is usually performed by a single musician who serves as both singer and accompanist.

Four of the five greatest composers of sokyoku (literally meaning "koto music") from the 17th and 18th centuries are represented here and performed by Namino Torii, one of the leading musicians of the Yamada school of sokyoku. The recordings are from 1976. Text of each piece is included in Japanese (in romaji form) and with English translation.

Tracks:
1. Ume-ga-e - 13:17
2. Omoigawa - 13:08
3. Hi-eh Ho Kyoku - 14:39
4. Hatsunne No Kyoko - 10:26

Lyrichord, in association with Multicultural Media, is pleased to present the Lyrichord Archive Series. This series will make many important Lyrichord recordings of the past available again for the first time in years. These are special-edition compact discs with liner notes. illustrations and photographs reproduced as .pdf files, and included right on the same CD as the audio program. These liner notes can then be downloaded and printed out or saved on any computer.

The Lyrichord Archive Series is designed with students, libraries, educational institutions, music historians and music enthusiasts in mind and is not available in stores.
---
We Also Recommend
---