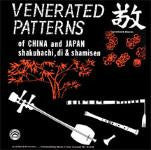 Venerated Patterns of China and Japan LAS-7395
---
---
Digital Download available from your favorite site including
Part of the Lyrichord Archive Series - Never before released recordings on CD from the Lyrichord vaults

A beautiful studio recording from the 1980's by three master musicians and scholars who explore the rich and integral common threads linking the traditional music of China and Japan.

Tim Liu is an award-winning master of the Di - the transverse flute of China. Liu studied and taught at the Chinese Culture University of Taiwan, and elsewhere in China and appeared as a soloist with the Taipei Municipal Chinese Orchestra. C. Ikehara and Lorie Brau are masters of the Shakuhachi and Shamisen, and studied extensively in Japan, and elsewhere in Asia. That they are also scholars of ethnomusicology allows them to explore the delicate interplay between the music of these two ancient cultures, in a manner that is as informed by their keen knowledge of musical history, as it is by their instrumental virtuosity. The result is an authentic cross-cultural experience in tradition that may not have been heard performed like this since the time of the Silk Road, though at one time must certainly have been a commonplace occurrence.

Tracks:
1. Lan Hua Hua (Blue Flower) Di - 3:56
2. Mariam, matrem Di, Shakuhachi - 6:50
3. Ifu Sashi Shakuhachi - 13:48
4. Kokaji (The Little Sword smith) Shamisen Duet - 3:23
5. Song of Gu Su Di - 5:24
6. Tsurukame (The Crane and the Tortoise) Di and Shamisen - 5:48
7. Korean Folk Music Medley Di, Shakuhachi, Shamisen - 2:00
8. Aida (Verdi, Evening Nile Temple Chorus) - 2:18
9. Echigo Jishi (Lion of Echigo) Shamisen - :55
10. Musume Dojoji (Maiden at the Dojo Temple) Di and Shamisen - 5:05

Lyrichord, in association with Multicultural Media, is pleased to present the Lyrichord Archive Series. This series will make many important Lyrichord recordings of the past available again for the first time in years. These are special-edition compact discs with liner notes. illustrations and photographs reproduced as .pdf files, and included right on the same CD as the audio program. These liner notes can then be downloaded and printed out or saved on any computer.

The Lyrichord Archive Series is designed with students, libraries, educational institutions, music historians and music enthusiasts in mind and is not available in stores.
---
We Also Recommend
---