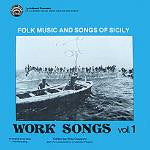 Folk Music and Songs of Italy - Work Songs Vol. 1 LAS-7333
---
---
Digital Download available from your favorite site including
Download free liner notes below
Part of the Lyrichord Archive Series - Never before released recordings on CD from the Lyrichord vaults

Now available for the first time in 30 years, this digitally remastered recording provides a window into the cultural reality of Sicilian workers, whose stirring and unforgettable songs convey the hardship of life and labor in non-industrial Sicily. This important collection preserves peasant songs and street calls, as well as work songs sung by actual salt workers, cart drivers, and tuna fishermen, all recorded on location in the streets, in the salty sea, and on the tuna boats, where they had been sung for countless generations. Folk Music and Songs of Italy offers the very rare opportunity to hear some of the only recordings made of Sicilian workers, whose way of life was rapidly succumbing to the forces of industrialization and the modern age.

Tracks:
1. Threshing Song - 1:39
2. Reaping Song - 1:13
3. Two Part Song with Jew's Harp - 4:35
4. Song with Alternating Voices - 4:18
5. Four Part Polivocal Song - 2:30
6. Protest Song - 0:44
7. Charcoal Workers Song - 0:53
8. Collective Work Song - 2:25
9. Bagheria, Villabate, Misilmeri - 1:29
10. Palermo - 2:15
11. Somebody Has a Saleletti - 0:31
12. Some Have a Salaotto - 0:36
13. Some Come and Some Go - 0:53
14. Beyond My Window There is a Garden - 3:46
15. On Mount Pellegrino There's a Rose - 4:47
16. I have a Heart the Size of a Hazelnut - 5:14
17. Salve Regina Prayer - 2:10
18. Cialoma - Crew of Favignana "tonnara" - 1:41
19. Gnazu - Crew of Favignana "tonnara" - 0:35
20. Zza Monaca - Crew of Favignana "tonnara" - 0:47
21. Cialoma (Aiamola e vval avanti) - Crew of Favignana "tonnara" - 1:18
22. Gnazu - Crew of Favignana "tonnara" - 1:14
23. Take up the Bagpipe - Crew of Favignana "tonnara" - 0:49
24. She Was Leaning on the Balcony - 2:00

Lyrichord, in association with Multicultural Media, is pleased to present the Lyrichord Archive Series. This series will make many important Lyrichord recordings of the past available again for the first time in years. These are special-edition compact discs with liner notes. illustrations and photographs reproduced as .pdf files, and included right on the same CD as the audio program. These liner notes can then be downloaded and printed out or saved on any computer.

The Lyrichord Archive Series is designed with students, libraries, educational institutions, music historians and music enthusiasts in mind and is not available in stores.
---
We Also Recommend
---