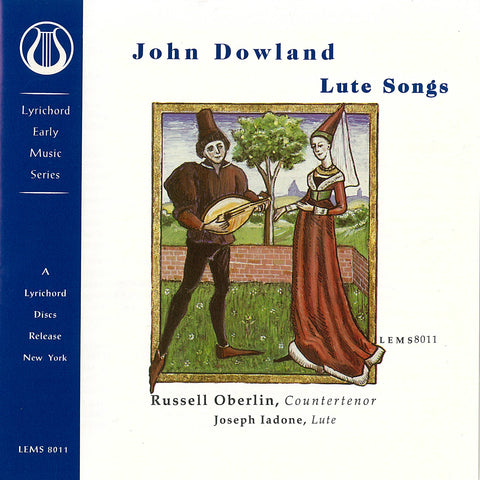 John Dowland Lute Songs - Russell Oberlin, countertenor - Joseph Iadone, lute DOWNLOAD ONLY LEMS-8011
---
---
Digital Download available from your favorite site including
Download free liner notes below (Mac users use Ctrl + click)
"*** One can hardly believe that this recital was recorded in 1958, so fresh and vivid is the sound. Russell Oberlin's very special counter-tenor timbre is beautifully caught. I saw my lady weep is most moving, while Flow my tears soars; but most touching of all is the closing In darkness let me dwell. Joseph Iadone contributes two of Dowland's most famous instrumental pieces." -THE PENGUIN GUIDE TO RECORDED CLASSICAL MUSIC, 2009
The English composer John Dowland (1562-1626), left behind some of the most beautiful and distinguished love songs in the history of music. This magnificent collection of lute songs is performed here by legendary countertenor Russell Oberlin, accompanied in the true Elizabethan performance style by Lutenist Joseph Iadone. An unrivaled performance of Dowland by one of the greatest voices of this century. No classical CD collection will be complete without this disc!
Tracks:
1.
Come again, sweet love doth now invite (First Book of Songs)
- 4:33
2.
Thou mighty God (A Pilgrimes Solace), sacred song
- 6:50
3.
Can she excuse my wrongs (First Book of Songs)
- 2:26
4.
Semper Dowland semper dolens, pavan for lute, P 9
- 4:25
5.
Flow not so fast ye fountains (Third Book of Songs),e
- 3:05
6.
I saw my lady weep (Second Book of Song),
- 4:45
7.
Weep you no more, sad fountains (Third Book of Songs),
- 3:53
8.
Shall I sue, shall I seek for grace? (Second Book of Songs),
- 2:13
9.
Flow, my tears, fall from your springs (Second Book of Songs),
- 4:27
10.
Lachrimae antiquae (from "Lachrimae"),
- 3:59
11.
Far from the triumphing court (A Pilgrimes Solice),
- 1:50
12.
Lady if you so spite me (A Musical Banquet)
- 2:16
13.
In darkness let me dwell (A Pilgrimes Solace), for voice, lute & bass viol
- 3:25
More Reviews
Additional Information
See more info on Russell Oberlin on Bach-Cantatas.com
More bio information on Russell Oberlin from 1960
---
We Also Recommend
---