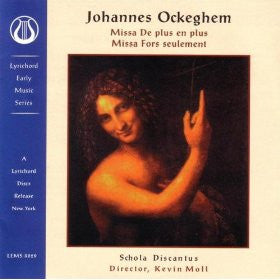 Johannes Ockeghem, Missa de plus en plus, Missa fors seulement - Schola Discantus DOWNLOAD ONLY LEMS-8029
---
---
Digital Download available from your favorite site including
Download free liner notes below (Mac users use Ctrl + click)
"*** This Lyrichord disc joins the beautiful middle-period four part Missa de plus en plus with a later five-part work, Missa Fors seulement, based on one of the composer's own chansons...the performances are finely sung and blended and have an appealing simplicity. Kevin Moll's varied pacing is convincing. The Missa Fors seulement (which only consists of Kyrie, Gloria and Credo) is especially notable for its use of two basses, which darkens the texture very strikingly, although Moll takes care not to provide an exaggerated balance."
-THE PENGUIN GUIDE TO RECORDED CLASSICAL MUSIC 2009
In commemoration of the 500th year following the composer's death, Lyrichord proudly presents two of Ockeghem's most striking creations. The first is the very lovely Missa De plus en plus, written in four parts. The other is the five-voice Missa Fors seulement, a mysterious and extremely powerful work from the master's late period. Each of these cycles epitomizes a different expressive facet of one of history's profoundest musical thinkers. Very few musicologists approach director Moll's understanding of the structural and performance issues of this music. The scores he uses for performance are always weighed very carefully against the original manuscripts, and this particular recording is based upon the definitive new Ockeghem edition of Jaap van Benthem. The vocalists on the recording include some of the most renowned professional American singers active in early music. Countless hours of preparation and rehearsal are coupled here with state-of-the-art recording techniques, done in the glorious acoustic of Memorial Church, Harvard University. Together, the setting and the performance capture perfectly the music's mystical qualities. Truly, this is THE Ockeghem CD of the year!
Tracks:
Johannes Ockeghem - Missa De Plus en Plus
1.
Kyrie
- 2:59
2.
Gloria
- 8:23
3.
Credo
- 9:38
4.
Sanctus
- 9:44
5.
Agnus Dei
- 5:42
Johannes Ockeghem - Missa Fors Seulement
6.
Kyrie
- 3:02
7.
Gloria
- 5:29
8.
Credo
- 8:17
Fanfare Review
Read article by Kevin Moll
.
---
We Also Recommend
---