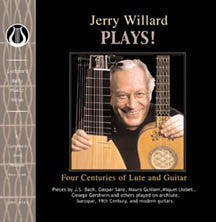 Jerry Willard PLAYS! Four Centuries of Lute and Guitar DOWNLOAD ONLY LEMS-8051
---
---
Digital Download available from your favorite site including
Download free liner notes below (Mac users use Ctrl + click)
"...unquestionable technical skill and superiority...sparkling and entertaining. - The New York Times
"By displaying his talents on archlute, baroque guitar, 19th century guitar and our modern guitar all within sixty minutes, Willard adds a different element to what would otherwise be an unimaginative program. Clearly a talented player, Willard weaves his way through this music with great sensitivity."
- Guitar Review, no. 130 Fall 2005
Jerry Willard takes us on a masters tour of the world's most popular stringed instrument, starting in 16th Century Italy with pieces performed on Archlute - from there to J.S. Bach with six of Bach's most popular lute pieces. Next Willard switches to Baroque guitar, for 17th Century compositions by Gaspar Sanz. A three movement sonata by Mauro Giuliani is performed on 19th Century Guitar. Finally, Willard uses a modern classical guitar for Catalan folk songs by Miguel Llobet, and three show stopping arrangements of tunes by the great George Gershwin!
ARCHLUTE (Patrick Caruso 2001)
Italian 16th century
1.
Bianco Fiore
(Cesare Negri 1520-1595)
2.
Vaghe belleze et biondecie rec d'oro vedi chc per ti moro
(Anonymous 16th century)
3.
Galiarda delta la mezza pace
(Santino Garsi 1542-1604)
4.
Se io m'accorgo
(Anonymous 16th cent)
Suite No. I BWV 996 (J. S. Bach 1685-1750)
5.
Prelude & Presto
6.
Allemande
7.
Courante
8.
Sarabande
9.
Bouree
10.
Gigue
BAROQUE GUITAR
(Patrick Caruso 1999)
Three compositions for Baroque guItar (Gaper Sanz 1640 - 1710)
11.
Pavanas
12.
Canarios
13.
Clarin de los Mosqueteros del Rey de Francia
19th CENTURY GUITAR (Francois Rene Lacote 1820) - Sonata by Mauro Giuliani (1781 - 1829)
14.
Andantino
15.
Scherzo
16.
Rondo
MODERN GUITAR
(Francisco Fernandez 1960) Three Catalan Folksongs by Miguel Llobet (1878 - 1938)
17.
El Testamento de Amelia
18.
Leonesa
19.
El Mestre
Three showtunes by George Gershwin (1898-1937)
20.
Swanee
21.
Summertime
22.
I Got Rhythm
Additional Information
Go to Jerry Willard's website!
---
We Also Recommend
---