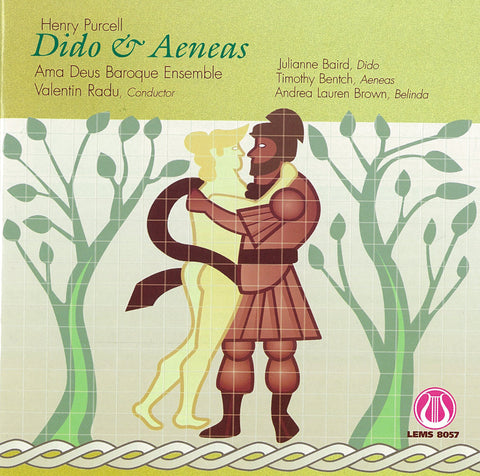 Henry Purcell: Dido & Aeneas and A Midsummernight's Dream Suite DOWNLOAD ONLY LEMS-8057
---
---
Digital Download available from your favorite site including
Download free liner notes below (Mac users use Ctrl + click)
Rave Reviews!
"Julianne Baird's voice is just right for Dido and she sings movingly, with fine support from the chorus. Her supporting cast is excellent. Timothy Bentch is an appealingly warm Aeneas. Andrea Lauren Brown a fresh-voiced, pert Belinda. Tatyana Rashkovsky a vivid Witch (though with a wide vibrato) and Dennis Kalup a personably nautical Sailor. The Ama Deus Baroque Ensemble is here a string quintet plus continuo, so the whole performance is in scale, and they accompany very stylishly. This is not a first choice, but it is a considerable one and the bonus is a generous suite from A Midsummer Night's Dream (9 movements) plus the famous Chaconne, taken briskly to make a suitable close after the Hornpipe and Dance of the Fairies. Good, well balanced recording."
- The Penguin Guide to Recorded Classical Music 2009

"Lyrichord Early Music Series' release of Dido and Aeneas is a powerful reminder of the greatness of Purcell's only opera. The early music group Ama Deus Ensemble conducted by Valentin Radu turns in a performance of wrenching simplicity and musical and dramatic directness. Julianne Baird sings with pearly luminosity as the doomed queen Dido, whose grief so overwhelms her that she can hardly whisper her despair… Andrea Lauren Brown as Belinda is fresh-voiced and pure, and Timothy Bentch's Aeneas is open and heroic.... The minor characters and the chorus perform with limberness and idiomatic sensitivity, as does the orchestra of strings and continuo… The excellent sound is spacious and clean."
- Stephen Eddins, All Music Guide
"What distinguishes this Dido and Aeneas, and I sit facing a foot-high stack of them, is not only the beautiful tone and sensitivity of Julianne Baird, a stunning singer, but the zest and taste of the ensemble, orchestra, and cast. The accompanying booklet is graced with pictures of the singers in costume and makeup. I gather that the recording is based on an actual production, which may help account for the coherence of the whole. Certainly, the brisk conducting of Valentin Radu is to be noted; I have rarely thought of Dido and Aeneas as a conductor's opera before. The overture is played vigorously, much of it piano. Andrea Lauren Brown's Belinda enters, and sings in a mannered way that is somehow effective, stressing the "shake" of "Shake the Cloud from Off Your Brow" and sounding almost scornful when she sings of "Empire growing." But then the mood changes. The chorus seems appropriately concerned singing "Banish Sorrow, Banish Care," and Baird tragic in a dignified way in her subdued "Ah Belinda." What is striking in the performance is the way even the chorus manages to convey different moods: they sound positively hopeful when singing "When monarchs unite, / How happy their state," a cheery prospect that is ignored by the main discussants. There is good taste throughout. The witches are convincing but not grotesque, the sailors buoyant. And Baird is magnificent in the opera's showpiece, Dido's lament. The orchestral suite that follows Dido and Aeneas is a welcome, little recorded addendum, here billed as a pastiche and retitled after the masque's source material, A Midsummer Night's Dream."
 - FANFARE: Michael Ullman
"Although a new recording of Purcell's eternally moving "Dido & Aeneas" may not be the first recording for the great American soprano Julianne Baird, nor the first time she has recorded the opera, it is one of her finest. Surrounded by a fine original-instrument band and a fresh-voiced, enthusiastic cast, she and conductor Valantin Radu produce a performance that should be the envy of many more polished attempts. Her final lament is wonderfully moving, and a tribute both to the composer and Ms. Baird.
The Ama Deus Ensemble, founded by Radu in 1991 on the occasion of the Mozart Bicentennial, combines with the Vox Renaissance Consort to make up Vox Ama Deus, a Philadelphia-based musical organization which since 1987 has specialized in authentic performances of vocal and instrumental music of the fifteenth through eighteenth centuries... they play with both style and, most important, heart."
Lawrence Vittes
Southern California Early Music News
October, 2007
PERIOD INSTRUMENT ENSEMBLE!
Purcell's 1689 English masque, Dido and Aeneas, was composed for performance at a London boarding school for "young gentlewomen" at the request of its head, Josias Priest, who was also employed at the school as a dancing master. For his libretto, Purcell called upon Natum Tate who borrowed from Virgil's Aeneid for a much-encapsulated love plot centering on the affair and betrayal of Carthaginian Queen Dido by the wandering prince Aeneas. As this was an entertainment for young people, Purcell employs lively dances and choruses, boozy sailors and a coven of weird witches to spice up the action. Only Dido, cast here with celebrated early Music soprano Julianne Baird, gets the arias-most notably her glorious lament "When I am laid in earth." Chorus, cast and period instrument orchestra of Philadelphia's premiere early music group Ama Deus Ensemble are led by music director Valentin Radu. Tenor Timothy Bentch as Aeneas and Lyrichord favorite, soprano Andrea Lauren Brown as Belinda, round out the fine cast. Dido and Aeneas is paired here with Purcell's charming A Midsummer Midsummer night's Suite, a pastiche of dance tunes from his Fairy Queen, choreographed for the premiere of that work two years earlier by the busy Josias Priest! The CD recording is produced by John Ostendorf.
Ama Deus Baroque Ensemble
Valentin Radu, Conductor
Julianne Baird, Dido
Timothy Bentch, Aeneas
Andrea Brown, Belinda
Tatyana Rashkovsky, The Sorceress
Patricia Conrad, The Second Woman
Jennifer Graf, First Witch
Kemper Lecroy Florin, Second Witch
Dennis Kalup, First Soldier
Fran Bjorneby Kraemer, Spirit of the Sorceress
Tracks:
1.
Overture
- 1:44
Act I
2. Air: "
Shake the cloud
" - 1:21
3. Air: "
Ah, Belinda
" - 7:57
4. "
See, see your royal guest appears
" - 1:42
5. "
Pursue thy conquest, Love
" - 2:38
Act II Scene I
6. "
Wayward sisters
" - 7:51
Act II Scene II
7. "
Thanks to these lonesome vales
" - 3:52
8. Air: "
Oft she visits
" - 2:48
9. "
Behold, upon my bending spear
" - 1:22
10. "
Stay, Prince, and hear
" - 2:59
Act III
11. "
Come away, fellow sailors
" - 2:15
12. "
See, see the flags
" - 3:40
13. "
Your counsel all
" - 4:42
14. Chorus: "
Great Minds
" - 0:45
15. Air: "
Thy hand, Belinda
" - 4:04
16. Chorus: "
With drooping wings
" - 4:34
A Midsummernight's Dream Suite
17.
Prelude
- 1:33
18.
Hornpipe
- 0:56
19.
Overture
- 1:12
20.
Air
- 0:49
21.
Rondeau
- 0:58
22.
Prelude
- 0:36
23.
Entry Dance
- 0:38
24.
Hornpipe
- 0:56
25.
Dance for the Fairies
- 0:45
26.
Chaconne
- 2:49
Go to the Vox Ama Deus website!
---
We Also Recommend
---