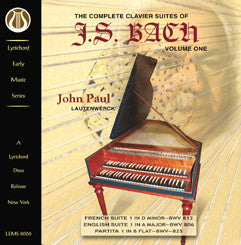 J.S. Bach: The Complete Clavier Suites, Vol. 1 DOWNLOAD ONLY LEMS-8066
---
---
Digital Download available from your favorite site including
Download free liner notes below (Mac users use Ctrl + click)
New Reviews!
"Beyond the durable division into outdoor and indoor music that shaped the Western tradition for centuries lay a third category: home music-making, carried out mostly for oneself rather than for an audience. This category has been given short shrift on recordings, inasmuch the home instrument of Mozart, for instance, was indisputably a clavichord for the first part of his career. The lautenwerck also falls into this category of music-making, and it has a rather uncanny quality of peeling back the layers of Bach's counterpoint as played here. This is the first in an eventual set of seven volumes of Bach's keyboard music, apparently all to be played on the lautenwerck; the hardcore Bach collector will eagerly anticipate the future releases."
James Manheim
All Music Guide
April, 2009

"For more Bach, say yes to the first volume in John Paul's lautenwerck recordings of 'The Complete Clavier Suites' ...

Paul's wonderful liner notes discuss the whys and wherefores of how he put the program together. I am delighted to report that he has included one French Suite, one English Suite and one Partita, which makes contrasting and comparing not only possible but immensely enjoyable. Equally important, his performances show the same mix of intellectual curiosity and search for beauty that his writing describes as Bach's core aesthetic drivers. The intimate, detailed and altogether lovely sound was recorded at St. Andrew's Cathedral in Jackson.
Lawrence Vittes
Southern California Early Music News
May 2009

"Here is a French Suite, English Suite, and Partita played on the lautenwerk, a harpsichord strung in gut to sound like a lute. Paul plays on the peau de buffle stop. The soft leather quills of this register allow the player to create small dynamic changes through variety of touch. He uses these changes to break up the musical phrasing and accentuate previously hidden gestures. The instrument's sound is lush and nuanced in the middle register. The extreme treble and bass tell a different story. The highest notes sound a bit consumptive and the lowest notes tend to snort through fast passages. But the music is so well played that these idiosyncrasies do not distract in the least from this fine recording."
KATZ
American Record Guide July 2009

About the exclusive use of the Peau de Buffle stop
"I think the thing about John Paul's Bach is that if you deprive yourself of the more usual means of expression, either you flop or you find some new avenue of expression. Actually punctuation, almost imperceptible breaks in the phrasing, and the "scanning" (Latin verse if you ever did it), which relies on shorts and longs, i.e. staccato notes and held notes, can if properly handled give you all the expression you need, expression in the sense of guiding the listener subtly through the different episodes and where it exists, the counterpoint.
…It's so different, almost like a totally different instrument, which of course always shows musical detail in a new light. John Paul's self-imposed limitation compels him to bring out expression and clarity of line in new ways, being deprived of the piano touch, or the harpsichord's registration possibilities and terrace dynamics. Impossible one might think, but he seems to manage it. It's also very relaxing listening."
Michael Meacock co-founder of the Oryx Recordings label,
editor and contributor  Baroque Music.org , and The Baroque Music Collection,
Fanfare Magazine calls him "... a performer of considerable distinction" The prestigious British Penguin Guide to Recorded Classical Music says he "... plays with vigour and much expressive vitality." He is keyboardist John Paul and this is his his fourth ground-breaking, world premier Lyrichord Early Music Series recording, and is the first of 7 volumes encompassing all of J.S. Bach's Clavier Suites performed on the gut-strung lautenwerck. The delicate, intimate tone of the lautenwerck, as realized though John Paul's sensitive and expressive interpretation, sets a new standard for these wonderful suites by the 18th century keyboard master!

The Clavier Suites of J.S. Bach are among the crowning glories of keyboard music in the Baroque Era. In them Bach combines German counterpoint with the current flavors of French and Italian musical fashion to produce nineteen works of gracefulness and brilliance. Here is a recording on a lautenwerck Peau de Buffle stop. The lute-like sound of gut strings gently brushed by soft leather quills displays at once the intimacy and the virtuosity of these marvelous works.

Tracks:

French Suite One in D Minor - BWV 812
1. Allemande - 5:04
2. Courante - 2:38
3. Sarabande - 2:30
4. Minuets 1 and 2 - 3:58
5. Gigue - 3:20

English Suite One in A Major - BWV 806
6. Prelude - 2:56
7. Allemande - 6:16
8. Courantes 1 and 2 with Two Doubles - 11:51
9. Sarabande - 3:27
10. Bouree 1 - 2:32
11. Bouree 2 - 1:52
12. Bouree 1 - 1:26
13. Gigue - 3:26

Partita 1 in B Flat Major - BWV 825
14. Praeludium - 1:52
15. Allemande - 5:18
16. Courante - 3:36
17. Sarabande - 2:57
18. Minuets 1 and 2 - 3:36
19. Gigue - 2:45
Additional Information
Read complete review on the ALL MUSIC GUIDE website. Click here.
For more about the Lautenwerck, read instrument builder Anden Houben's article
here.
---
We Also Recommend
---