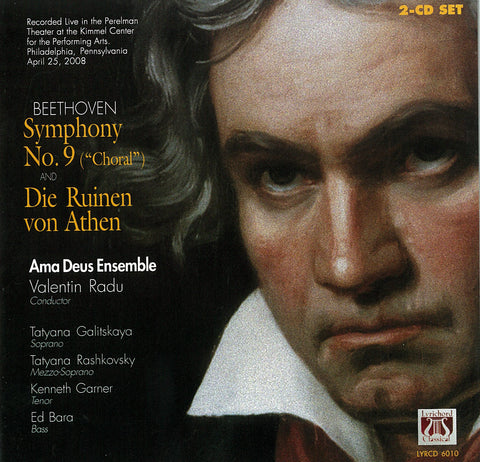 Beethoven: Symphony No. 9 ("Choral") in D Minor Opus 125 and Die Ruinen von Athen Opus 113 DOWNLOAD ONLY LYR-6010
---
---
Digital Download available from your favorite site including
Download free liner notes below (Mac users use Ctrl + click)
TWO CDs FOR THE PRICE OF ONE!
Philadelphia's premiere choral/orchestral ensemble, Vox Ama Deus, is featured on a new two-CD Lyrichord set of great Beethoven masterworks - the mighty Ninth Symphony, Op. 125 and his Opus 113, Die Ruinen von Athen.
The Ninth, completed in 1824 was Beethoven's final and greatest symphony, employing for the first time, voices as well as full orchestra, the choral text taken from verses of Schiller's epic poem, "Ode to Joy." Maestro Valentin Radu conducts the Ama Deus Ensemble Orchestra and Chorus and soloists, recorded at Philadelphia's new Kimmel Center, home of the Philadelphia Orchestra. A bonus work offered by Lyrichord is the little known, splendid Ruin of Athens, a choral masque commissioned to inaugurate the opening of a new theatre in the Hungarian city of Pest in 1813. The work abounds with gods and goddesses lamenting the fall of the ancient Greek city to Roman and Turkish invasions. A new city in Europe - Pest, of course - is extolled as the "modern Athens." Beethoven's fascinating score contains nearly 35 minutes of wonderful music, yet is known only for its Overture and the familiar Turkish March. Radu and his Philadelphia forces record it here in its musical entirety.
Soloists: Tatyana Galitskaya, soprano
Tatyana Rashkovsky, mezzo-soprano
Kenneth Garner, tenor
Ed Bara, bass
Produced by John Ostendorf
Stephen J. Epstein, recording engineer.
Recorded live in the Perelman Theater of the Kimmel Center for the Performing Arts, Philadelphia PA April 4th, 2008
Disc One (61:55)
Symphony No. 9
1. I.
Allegro ma non troppo
- 13:19
2. II.
Molto vivace (Scherzo)
- 12:45
3. III.
Adagio molto e cantabile
- 13:19
4. IV.
Presto
- 5:54
5. Recitative:
"O Freunde"
- 9:58
6.
"Freude, schoner"
- 6:35
Disc Two (36:10)
Die Ruinen von Athen
1.
Overture
- 4:43
2. Chorus:
"Tochter des machtigen Zeus"
- 3:01
3. Duet:
"Ohne Verschulden"
- 4:15
4. Chorus:
"Du hast in deines Armels"
- 2:22
5.
Turkish March
- 2:05
6.
Scene Music
- 1:53
7. March/Chorus:
"Schmukt die Altare"
- 6:07
8. Recitative:
"Mir reger Freude"
- 1:46
9. Chorus:
"Wir tragen"
- 2:24
10. Aria/Chorus:
"Will unser Genius"/"Er ist's"
- 3:52
11. Chorus:
"Heil unserm Konig"
- 3:39
Go to the Vox Ama Deus website!
---
We Also Recommend
---