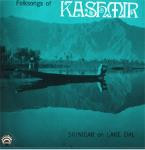 Folksongs of Kashmir LAS-7260
---
---
Part of the Lyrichord Archive Series - Never before released recordings on CD from the Lyrichord vaults

World Music pioneer and producer Verna Gillis made these classic Lyrichord field recordings during her landmark recording trip to Kashmir in 1972. Kashmir, the land wedged between China, Pakistan and India, was the ancient route for Buddhists coming from India and Afghanistan en route to China. The music on this recording was all recorded on a houseboat on the waters of Lake Dal. Solo vocal singing in Kashmir is reserved for songs of worship, so secular music includes a rich variety of traditional instrumentation to accompany the singer. Instruments on this recording include the stringed Rebab, Harmonium, the vocal sounding Sarangi, and the clay drum called the Not. Eli Mohammad Shera and others sing Sufi love and devotional songs, and several instrumental solos and duets are included as well.

Tracks:
1. Ensemble: Love Song - 10:50
2. Sarangi, with not accompaniment - 1:24
3. Rebab solo - 1:08
4. Rebab solo accompanied by sarangi - 2:12
5. Rebab and not - 5:08
6. Mustafa - Eli Mohammad Shera - 8:14
7. Ensemble: Sufi Love Song - 6:58
8. Mustafa - Eli Mohammad Shera - 7:43


Lyrichord, in association with Multicultural Media, is pleased to present the Lyrichord Archive Series. This series will make many important Lyrichord recordings of the past available again for the first time in years. These are special-edition compact discs with liner notes. illustrations and photographs reproduced as .pdf files, and included right on the same CD as the audio program. These liner notes can then be downloaded and printed out or saved on any computer.

The Lyrichord Archive Series is designed with students, libraries, educational institutions, music historians and music enthusiasts in mind and is not available in stores.
Additional Information
Go to legendary producer Verna Gillis' "Soundscape Presents" arts, education and performance website.
---
We Also Recommend
---