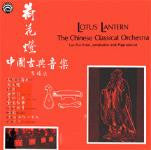 Lotus Lantern: The Chinese Classical Orchestra LAS-7202
---
---
Digital Download available from your favorite site including
Part of the Lyrichord Archive Series - Never before released recordings on CD from the Lyrichord vaults

A gorgeous performance of a large Chinese classical orchestra, featuring all of the traditional instruments which give this type of orchestra its unique, majestic sound.
Instruments include Pipa, Ti, Ta Ren, Sheng, Yang Cen, Ta-hu, Erhu and others. Pipa player and concertmaster Lui Pui Yuen, masterfully leads this band in both stirring and serene traditional orchestrations of Chinese folk songs, melodies dating as far back as the Yuan, Ching, and Ming dynasties, and tunes made popular in the Peking Opera. Recorded in the early 1960s, this recording takes the listener back to a time before there were still no western influences on this type of Chinese orchestral music.

Tracks:
1. Dance Music of Hua T'Iao Tzu - 2:51
2. Lotus Lantern - 7:04
3. Bow Dance - 5:05
4. Prelude to Dance and Song - 3:34
5. Horseback Riding In A Spring Field - 2:36
6. The Dance of Happiness - 3:46
7. Han Palace by Autumn Moonlight - 4:51
8. Playing In The Garden - 5:43
9. Without A Song - 4:04
10. The Cowherder and The Country Girl - 4:08


Lyrichord, in association with Multicultural Media, is pleased to present the Lyrichord Archive Series. This series will make many important Lyrichord recordings of the past available again for the first time in years. These are special-edition compact discs with liner notes. illustrations and photographs reproduced as .pdf files, and included right on the same CD as the audio program. These liner notes can then be downloaded and printed out or saved on any computer.

The Lyrichord Archive Series is designed with students, libraries, educational institutions, music historians and music enthusiasts in mind and is not available in stores.
---
We Also Recommend
---