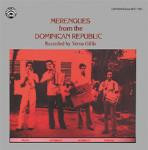 Merengues from the Dominican Republic LAS-7351
---
---
Digital Download available from your favorite site including
Part of the Lyrichord Archive Series - Never before released recordings on CD from the Lyrichord vaults

Renowned world music producer Verna Gillis captured the lively rhythms and distinct personality of the Dominican Merengue in this recording from 1977. The modern Merengue is a synthesis of African and Spanish elements that retains a musical flavor all it's own. It is almost more South American sounding than Latin-Caribbean with its jaunty 2/4 swing. Originally it was a guitar based style and has since evolved to include accordion, guayo, tambora and marimbula. Although Merengue is considered party music it manages to convey lyrics that cover almost every facet of everyday life in the Dominican Republic.

Tracks:
1. Si Una Mujer Llora - 5:12
2. Una Mujer Me Dejo - 3:55
3. Dolorita - 3:22
4. Noche Me La Llevo - 3:20
5. La Cruz de Palo - 2:51
6. Alla en la Sabana - 3:37
7. Yo Soy el Negrito Aquel - 5:20
8. Untitled - 4:06
9. Hatillo Palma - 3:48
10. Desiderio Arias - 3:42
11. La Cotorrita de Rosa - 3:36
12. Tu a Mi No Me Quieres Nada - 4:37


Lyrichord, in association with Multicultural Media, is pleased to present the Lyrichord Archive Series. This series will make many important Lyrichord recordings of the past available again for the first time in years. These are special-edition compact discs with liner notes. illustrations and photographs reproduced as .pdf files, and included right on the same CD as the audio program. These liner notes can then be downloaded and printed out or saved on any computer.

The Lyrichord Archive Series is designed with students, libraries, educational institutions, music historians and music enthusiasts in mind and is not available in stores.
Additional Information
Go to legendary producer Verna Gillis' "Soundscape Presents" arts, education and performance website.
---
We Also Recommend
---