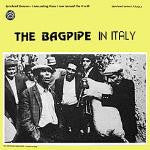 The Bagpipe in Italy LAS-7343
---
---
Digital Download available from your favorite site including
Part of the Lyrichord Archive Series - Never before released recordings on CD from the Lyrichord vaults

A broad panorama of the bagpipe in Italy was presented for the first time in this significant collection, and contains: examples of the Southern bagpipe (zampogna), both as solo instrument and accompanying the oboe (piffero); the piva from Istria, the launeddas from Sardinia (that extraordinary clarinet which requires that the cheeks of the player serve as air-sacks); the oboe (piffero) from the Liguian-Lombard Apennines; and finally, the organetto (a concertina-type instrument), in its function as a "competitor" and substitute for the bagpipe. Available for the first time since 1978, this important recording, now digitally remastered, continues to inform and fascinate, and bring back to life the unique and traditional sounds of the bagpipe in Italy.  

Tracks:
1. Melodies - 3:23
2. Saltarello - 3:19
3. Pastorale - 1:23
4. Christmas Carol - 2:03
5. Castroregio, You're Beautiful - 2:27
6. Christmas Carol - 2:17
7. Tarantella (A) - 3:18
8. Tarantella (B) - 3:21
9. Litany and Pastoral - 3:29
10. Dances - 3:55
11. Christmas Eve Pastoral - 3:23
12. Dance - 4:35
13. Acompaniment for the Procession - 4:14
14. Furlana - 1:45
15. Song with Bagpipe - 3:22
16. Monferrina - 1:49
17. PIANA - 0:59
18. Wedding Music - 1:34

Lyrichord, in association with Multicultural Media, is pleased to present the Lyrichord Archive Series. This series will make many important Lyrichord recordings of the past available again for the first time in years. These are special-edition compact discs with liner notes. illustrations and photographs reproduced as .pdf files, and included right on the same CD as the audio program. These liner notes can then be downloaded and printed out or saved on any computer.

The Lyrichord Archive Series is designed with students, libraries, educational institutions, music historians and music enthusiasts in mind and is not available in stores.
---
We Also Recommend
---