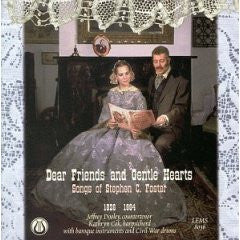 Dear Friends and Gentle Hearts: Songs of Stephen C. Foster (1836-1864) DOWNLOAD ONLY LEMS-8036
---
---
Digital Download available from your favorite site including
Download free liner notes below (Mac users use Ctrl + click)
You are invited to return to a time and place that vanished long ago, yet still lives in the American heart like a half forgotten memory of home.
The Lyrichord Early Music series proudly presents the highly acclaimed American countertenor Jeffrey Dooley, and distinguished harpsichordist Kathryn Cok in a ground breaking celebration of the music and songs of 19th century American composer Steven Foster. Performed for the first time ever from a "baroque-perspective", Dooley and Cok are joined are joined on period instruments by some of the most respected Early Music players performing today, including Leah Nelson, John Delucia, Patricia Ann Neely and others, with guest percussionist Randy Crafton on authentic Civil War-era military drums. This legendary American musical legacy, from Foster's rousing Civil War marches to his most tender and moving parlour ballads, are once again brought to life in an approach that is both new and yet somehow inexplicably familiar.
The Twenty page booklet includes full song texts and an essay by noted New York Times Magazine and Newsday popular music journalist, and Foster biographer Ken Emerson.
"No other 19th-Century American songwriter wrote so many songs that are still remembered today. "Dear Friends and Gentle Hearts: Songs of Stephen Foster" suggests that timelessness extends backward as well as forward. Paradoxically, Dooley's antique approach enables us to hear Foster afresh."
-- Ken Emerson, author of Doo-dah! Stephen Foster and the Rise of American Popular Culture.
Tracks:
1.
Beautiful Dreamer
for voice & piano - 3:22
2.
Soirée Polka
for piano - 2:15
3.
Ah! May the Red Rose Live Alway
for voice & piano (or orchestra) - 6:51
4.
We Are Coming, Father Abraham
for voice & piano - 3:21
5.
Linger in Blissful Repose
for voice & piano - 4:00
6.
Santa Anna's Retreat
- 2:01
7.
Farewell! Mother Dear I Go
- 4:11
8.
Jeanie with the Light Brown Hair
for voice & piano - 5:15
9.
That's What's the Matter
for voice & piano - 3:41
10.
Hard Times Come Again No More
for voice & piano - 6:52
11.
Summer Longings
for voice & piano - 5:33
12.
I'm Nothing But a Plain Old Soldier
- 3:47
13.
My Old Kentucky Home
, for voice & piano - 7:12
Additional Information
Mini bio of Jeffrey Dooley (from the Bach Cantatas website)
---
We Also Recommend
---