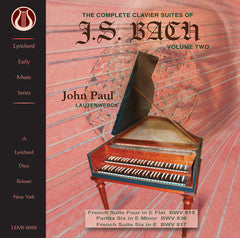 J.S. Bach: The Complete Clavier Suites, Vol. 2 DOWNLOAD ONLY LEMS-8068
---
---
Digital Download available from your favorite site including
Download free liner notes below (Mac users use Ctrl + click)
About the exclusive use of the Peau de Buffle stop
"I think the thing about John Paul's Bach is that if you deprive yourself of the more usual means of expression, either you flop or you find some new avenue of expression. Actually punctuation, almost imperceptible breaks in the phrasing, and the "scanning" (Latin verse if you ever did it), which relies on shorts and longs, i.e. staccato notes and held notes, can if properly handled give you all the expression you need, expression in the sense of guiding the listener subtly through the different episodes and where it exists, the counterpoint.
…It's so different, almost like a totally different instrument, which of course always shows musical detail in a new light. John Paul's self-imposed limitation compels him to bring out expression and clarity of line in new ways, being deprived of the piano touch, or the harpsichord's registration possibilities and terrace dynamics. Impossible one might think, but he seems to manage it. It's also very relaxing listening."
Michael Meacock co-founder of the Oryx Recordings label,
editor and contributor  Baroque Music.org , and The Baroque Music Collection,
Fanfare Magazine calls him "... a performer of considerable distinction" The prestigious British Penguin Guide to Recorded Classical Music says he "... plays with vigour and much expressive vitality." This is his fifth ground-breaking, world premier Lyrichord Early Music Series recording, and is the first of 7 volumes encompassing all of J.S. Bach's Clavier Suites performed on the gut-strung lautenwerck. The delicate, intimate tone of the lautenwerck, as realized though John Paul's sensitive and expressive interpretation, sets a new standard for these wonderful suites by the 18th century keyboard master!
Tracks:
French Suite Four in E Flat BWV 815
1.
Allemande
- 3:28
2.
Courante
- 2:30
3.
Sarabande
- 2.06
4.
Gavotte
- 1:54
5.
Menuet
- 1:06
6.
Air
- 2:54
7.
Gigue
- 3:14
Partita Six in E Minor BWV 830
8.
Toccata
- 8:50
9.
Allemanda
- 4:26
10.
Corrente
- 6:42
11.
Air
- 2:06
12.
Sarabande
- 4:46
13.
Tempo di Gavotta
- 2:46
14.
Gigue
- 6:58
French Suite Six in E BWV 817
15.
Allemande
- 4:48
16.
Courante
- 2:20
17.
Sarabande
- 3:56
18.
Gavotte
- 1:26
19.
Polonaise
- 2:06
20.
Menuet
- 1:40
21.
Bourree
- 1:58
22.
Gigue
- 3:28
For more about the Lautenwerck, read instrument builder Anden Houben's article
here.
---
We Also Recommend
---