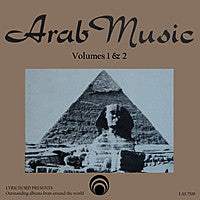 Arab Music, Vol. 1 & 2 DOWNLOAD ONLY LAS-7198
---
---
Digital Download available from your favorite site including
Part of the Lyrichord Archive Series -

Rare Out-of-Print LP Re-Release on Digital Download Only

 from the Lyrichord vaults
Music of the Near East- Arab Music (originally on two volumes) is a treasure trove of diverse authentic Arab music of the kind that made Lyrichord a revered resource for scholars and fans of traditional ethnic music the world over.  
Tracks:
1. Ya Saide ("Night") 4:23
2. Yallel Baladna (The Night in Our Village") 4:13
3. Asuit 3:40
4. Auminaity Ashufeak Ya-alby 6:12
5. Samaie Agam 3:48
6. Samaie Thakiel Bayaty 2:23
7. Bayaty Mode Variation 6:29
8. Bayaty for the Nai and Kanun 3:12
9. Bayaty for the Oud, Kanan, and Nai 10:13
10. Samaie Shad Araban 4:10
11. Bayaty El Erian 2:30
12. Tahmila 7:38
13. Samaie Nahawand 3:10
14. Lastw Adry 4:10
15. A Piece on Nahawand 1:25
16. Variation on Nahawand (Bageia Nahawand) 3:05
Lyrichord, in association with Multicultural Media, is pleased to present the Lyrichord Archive Series. This series will make many important Lyrichord recordings of the past available again for the first time in years. These are special-edition compact discs with liner notes. illustrations and photographs reproduced as .pdf files, and included right on the same CD as the audio program. These liner notes can then be downloaded and printed out or saved on any computer.
The Lyrichord Archive Series is designed with students, libraries, educational institutions, music historians and music enthusiasts in mind and is not available in stores.
---
We Also Recommend
---