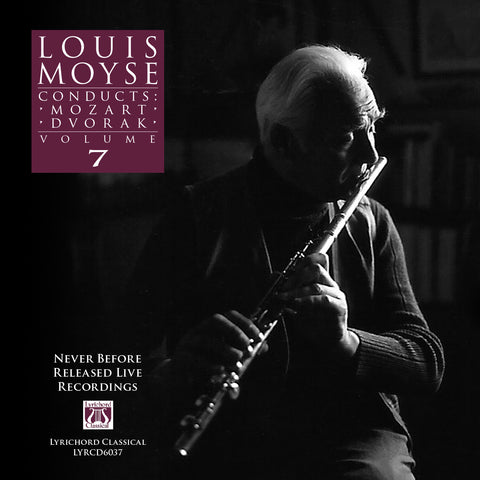 Louis Moyse Conducts: Mozart, Dvorak, Volume 7 LYR-6037
---
---
A Milestone in the History of Flute Performances
Seven volumes of "live performance" recordings featuring the legendary flute master, Louis Moyse, playing with many outstanding musicians on six previously unreleased recordings from the renowned Marlboro Music Festival and conducting the orchestra on the seventh recording.
Performances of Moyse, Bach, Debussy, Haydn, Beethoven, Hindemith, Weber, Ibert, Roussel, Mozart, Blavet, Martinu, C.P.E. Bach, Dvorak, and F.X. Mozart are included.
PDF FILE OF NOTES INCLUDED ON DISC
Wind Serenades • 75:38
[1]-[7] Serenade for Wind Instruments No. 10 in B-Flat Major, K 361.

[8]-[11] Anton Dvorak: Serenade in D Minor, Opus 44.

BMC Wind Ensemble, Conducted by Louis Moyse
Brattleboro Music Center, Green Street School Auditorium, Brattleboro, Vermont, April 12, 1970.

Oboes: Henry Schuman, Jane Cochran
Clarinets: Richard Stoltzman, George Cochran
Bassett Horns: William Lewis, Allen Blustein
Bassoons: Donald MacCourt, Richard Vrotney
French Horns: Vincent Schneider, Michael Martin, Earl Chapin, Robert Routch
Cello: Warren Lash
Bass: Barbara Wilson
Conducted by Louis Moyse.
---
We Also Recommend
---