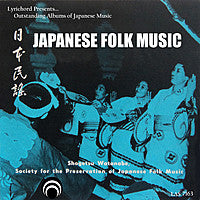 Japanese Folk Music DOWNLOAD ONLY LAS-7163
---
---
Digital Download available from your favorite site including
Part of the Lyrichord Archive Series -

Rare Out-of-Print LP Re-Release on Digital Download Only

 from the Lyrichord vaults
A unique collection of traditional and ancient folk songs of Japan, compiled and performed by Shogetsu Watanabe of the Society for the Preservation of Japanese Folk Music.
Tracks:
1. Kagoshima Oharabushi 1:55
2. Akita Ohako 2:51
3. Sansa Shigure 2:28
4. Soran-bushi 3:11
5. Hachinoe Kouta 3:11
6. Esashi Oiwake-bushi 8:05
7. Yamaguchi Sansa Odoriuta 2:30
8. Tanko-bushi 2:19
9. Hanagasa Odori-uta 2:05
10. Sadokesa 1.55
11. Soma Bon-uta 3:02
12. Donpan-bushi 2:19
13. Chichibu Ondo 2:46
14. Kaigarabushi 2:48
15. Fukuchiyama Ondo 2:17
Lyrichord, in association with Multicultural Media, is pleased to present the Lyrichord Archive Series. This series will make many important Lyrichord recordings of the past available again for the first time in years. These are special-edition compact discs with liner notes. illustrations and photographs reproduced as .pdf files, and included right on the same CD as the audio program. These liner notes can then be downloaded and printed out or saved on any computer.
The Lyrichord Archive Series is designed with students, libraries, educational institutions, music historians and music enthusiasts in mind and is not available in stores.
---
We Also Recommend
---