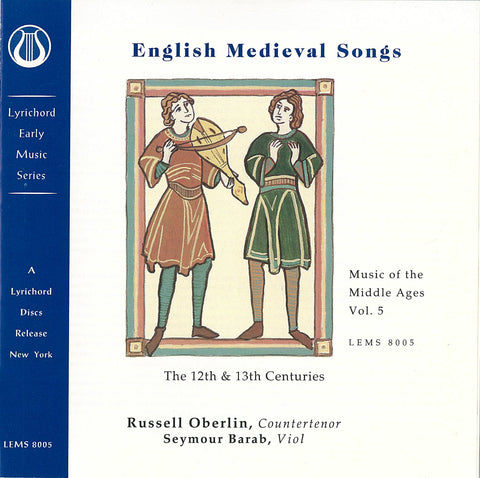 Music of the Middle Ages, Vol. 5: English Medieval Songs (12th and 13th Centuries) DOWNLOAD ONLY LEMS-8005
---
---
Digital Download available from your favorite site including
Download free liner notes below (Mac users use Ctrl + click)
Very few early English songs survive. Continental modal forms, fused with lost musical structures and traditions of the ancient Celts, combined to create a uniquely English monodic song form. The exceptionally beautiful St. Godric Songs (c.1150), are the earliest known songs in the English language. They are exquisitely performed here by the legendary countertenor Russell Oberlin, possibly the greatest countertenor of our century. This recording also features Seymour Barab on English fretted Viol, both under the musical direction of Saville Clark. Includes extensive liner notes by Saville Clark and William Bittner.
Tracks:
1.
Crist and St. Marie
- 1:51
2.
Sainte Marie Virgine Moder
- 1:08
3.
Sainte Marie Cristes Bur
- 1:00
4.
Sainte Nocolaes Godes Drud
- 0:43
5.
Worldes Blis Ne Last No Throwe
- 13:08
6.
Byrd on Brere (Bird on a briar)
- 2:04
7.
Man Mai Longe Lives Weene
- 6:53
8.
English Stonewel moder
- 8:16
Additional Information
See more info on Russell Oberlin on Bach-Cantatas.com
More bio information on Russell Oberlin from 1960
---
We Also Recommend
---