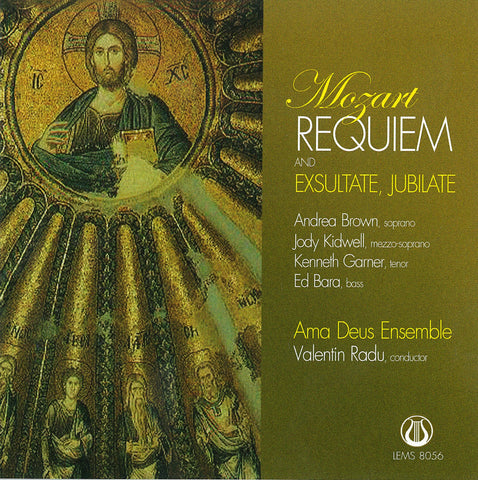 W.A. Mozart Requiem and Exsultate, Jubilate - Ama Deus Ensemble DOWNLOAD ONLY LEMS-8056
---
---
Digital Download available from your favorite site including
Download free liner notes below (Mac users use Ctrl + click)
"Radu's reading is fully worked-out, and it arrests the listener's interest from the opening bars of the work. The choir and soloists respond enthusiastically to his concept, and soprano Andrea Lauren Brown shows total confidence in Exsultate, jubilate, the virtuoso solo showpiece that opens the disc. The singers of the Ama Deus Ensemble are a cut above the average American choir in terms of intonation and control. In short, the performance is an exciting one."
- James Manheim, ALL MUSIC GUIDE

"Soprano Andrea Lauren Brown whose name goes up in lights here courtesy of an Exsultate, Jubilate sung with beauty and charm. She phrases like an angel while tossing off the coloratura passages with elan and demonstrating custard donut tone at every turn... if you want to hear a lovely voice at work in a celestial score, you'll find one here."
- American Record Guide, November, 2006

"Valentin Radu's performance on Lyrichord is enjoyably direct, with the Ama Deus Choral group lyrically strong and characterful. The excellent team of soloists is led by Andrea Brown, who opens the disc with a memorable performance of the Exsultate Jubilate. Tempi are very comparable to those chosen by Colin Davis, although Radu's account is less fiercely dramatic than the LSO version; but it is enjoyably full-blooded and committed, and very well recorded."
- THE PENGUIN GUIDE TO RECORDED CLASSICAL MUSIC, 2009 EDITION

"Soprano Andrea Lauren Brown was the star of the evening - alive to every word and note in Mozarts first masterpiece, Exsultate, Jubilate. Brown smiled serenely through the coloratura and, throughout the piece, exuded the joy that is its essence."
- Philadelphia: Chestnut Hill Local, Main LineTimes
Wolfgang Amadeus Mozart's final and most magnificent choral masterpiece, his Requiem in D Minor, K. 626 for orchestra, chorus and solo quartet and his earlier, florid vocal cantata, Exsultate, Jubilate, K. 165—are given a superb new recording by conductor Valentin Radu and his Ama Deus Ensemble, marking their Lyrichord CD debut. The Philadelphia-based group is comprised of that city's finest professional choral singers and players, many from the ranks of the Philadelphia Orchestra. The solo quartet for the Requiem includes Jody Kidwell, mezzo; Kenneth Garner, tenor; Ed Bara, basso and the distinguished European based soprano Andrea Brown, who is also featured in Mozart's dazzling Exsultate for strings and soprano soloist.
Conductor Valentin Radu, founder and artistic director of both Ama Deus Ensemble and the Vox Renaissance Consort, has also made guest appearances throughout Europe with major orchestras. His extensive discography with producer John Ostendorf includes the choral masterworks of Handel, Bach and Vivaldi for a number of labels.
THE TRACKS
Exsultate, jubilate, K. 165
Solo Soprano and Orchestra
1 ARIA:
Exsultate, jubilate
(4:39)
2 RECITATIVE:
Fulget, amica dies
(0:38)
3 ARIA:
Tu virginum corona
(6:05)
4 ARIA:
Alleluja
(2:45)
Andrea Lauren Brown, soprano
Valentin Radu, Conductor
Andrea Lauren Brown, Soprano; Jody Kidwell, Mezzo-Soprano; Kenneth Garner, Tenor; Ed Bara, Bass
Requiem in D, K. 621
Solo Quartet, Chorus and Orchestra
5 CHORUS/SOPRANO
Requiem
(7:00)
6 CHORUS:
Dies irae
(1:43)
7 SOLO QUARTET:
Tuba mirum
(3:43)
8 CHORUS:
Rex tremendae
(2:05)
9 SOLO QUARTET:
Recordare
(5:45)
10 CHORUS:
Confutatis
(2:36)
11 CHORUS:
Lacrymosa
(3:07)
12 CHORUS/QUARTET:
Domine Jesu
(3:11)
13 CHORUS:
Hostias
(3:21)
14 CHORUS:
Sanctus
(1:39)
15 SOLO QUARTET:
Benedictus
(5:18)
16 CHORUS/SOPRANO
Agnus Dei
(9:01)
Visit soprano Andrea Lauren Brown's website!
---
We Also Recommend
---