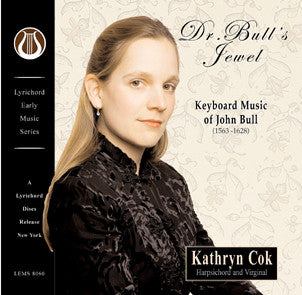 Dr. Bull's Jewel - Keyboard Music of John Bull (1563-1628) DOWNLOAD ONLY LEMS-8060
---
---
Digital Download available from your favorite site including
Download free liner notes below (Mac users use Ctrl + click)
Rave Reviews!
"...the interpretation of each piece thought afresh and served by a superlative technique. The King's Hunt is a tour de force, held back in places only to gather pace again with cascades of notes played at almost incredible speed. Walsingham, much the longest piece, is given a masterful performance"
-FRANCIS KNIGHTS, EARLY MUSIC
Volume 37, Number 2, May 2009
Oxford Music Journal
**** "An aptly named collection, for Kathryn Cok really does make a jewel out of Bull's piece of that name, and she is equally imaginative in picturing The King's Hunt. She opens invitingly with Bull's Goodnight, the virtuoso divisions of Walsingham and the embroidery of the In nomine are encompassed with flair, and Bonny Peg of Ramsey has proper wit. This is a very attractive collection indeed, and the recording of the harpsichord is remarkably clear and present."
-THE PENGUIN GUIDE TO RECORDED CLASSICAL MUSIC, 2009 EDITION

"...(John Bull) may have met his musical match in the American-Dutch harpsichordist Kathryn Cok, an adventurous soul who has recorded everything from Renaissance music to Stephen Foster...Cok here offers a new interpretation that seems likely to make audiences hear his music in several entirely new ways.
James Manheim-ALL MUSIC GUIDE
"...a consistent and thoughtful presentation."
Stephen Dydo- EARLY MUSIC AMERICA
(Click here to download complete EMA review.)

"All in all this is a very fine disc. It offers a wise and fascinating choice of pieces, nicely recorded, thoughtfully annotated ... and beautifully prepared, researched and played. And this is music by a figure who can be seen to be in the first rank of early English composers."
Gary Higginson, MusicWeb International

"Kathryn Cok's thoroughly researched disc of John Bull reminds us that he was one of the most innovative of early 17 C virginalists, stretching a conservative genre with harmonically rich and virtuosic pieces, a master of variation whose Walsingham runs to all of 17 minutes"
Peter Grahame Woolf MUSICALPOINTERS.CO.UK

John Bull was an important member of the English Virginalist School of the late 16th, early 17th centuries with the likes of Sweelinck, Gibbons and Byrd. A prolific composer of music for the keyboard, Bull composed in a variety of styles and genres, and was one of the composers who witnessed and helped create the transition from The Renaissance to the Baroque. A protege of the great Ton Koopman, New York City born Kathryn Cok won first prize in the 2001 Early Music Competition for voice, organ and Harpsichord in Brunnenthal, Austria, was harpsichordist in the European Union Baroque Orchestra, has worked with orchestras such as the Amsterdam Baroque Orchestra, Musica ad Rhenum, is a co-founder of the Anglo-Dutch ensemble Het Caecilia-Concert, and has worked with other fine and notable early music groups in Europe and North America. She has recorded for Lyrichord (Dear Friends and Gentle Hearts, LEMS 8036) and for several European labels. This is her debut solo recording.

The Tracks:

1. Bull's Goodnight - 2:57
2. Chromatic Pavan (Queen Elizabeth's) - 6:04
3. Chromatic Galliard - 3:40
4. The King's Hunt - 3:28
5. Walsingham - 17:34
6. Bonny Peg of Ramsey - 1:27
7. Fantastic Pavan - 5:37
8. Galliard to the Fantastic Pavan - 2:12
9. My Self - 2:20
10. In Nomine - 7:22
11. My Jewel - 7:22
12. The Quadran Pavan - 2:16
13. Galliard to the Quadran Pavan - 7:00
Additional Information
Click here to read full review in the ALL MUSIC GUIDE.
---
We Also Recommend
---