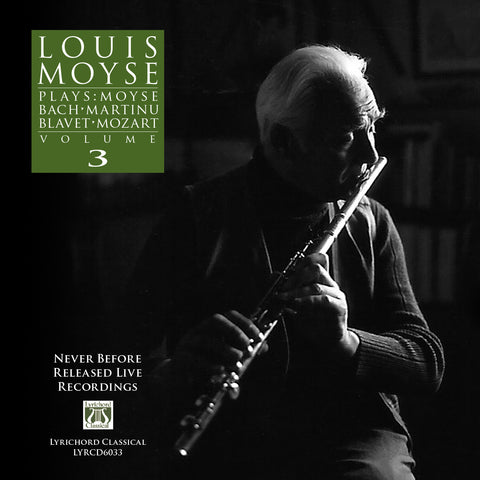 Louis Moyse Plays: Moyse, Bach, Martinu, Blavet, Mozart, Volume 3 LYR-6033
---
---
A Milestone in the History of Flute Performances
Seven volumes of "live performance" recordings featuring the legendary flute master, Louis Moyse, playing with many outstanding musicians on six previously unreleased recordings from the renowned Marlboro Music Festival and conducting the orchestra on the seventh recording.
Performances of Moyse, Bach, Debussy, Haydn, Beethoven, Hindemith, Weber, Ibert, Roussel, Mozart, Blavet, Martinu, C.P.E. Bach, Dvorak, and F.X. Mozart are included.
PDF FILE OF NOTES INCLUDED ON DISC
Moyse Trio II • 77:39

[1]-[4] J.S. Bach: Sonata No. 3 in E Major. 18:22
Blanche Moyse, Violin.
Louis Moyse, Piano.
Studio Recording, 1959.

[5]-[6] Mozart: K. 301 11:16
Blanche Moyse, Violin.
Louis Moyse, Piano.
Radio Geneva Live Radio Broadcast, Dec, 1958.

[7]-[10] M. Blavet: Sonata "L'Henriette". 11:14

[11]-[14] Moyse: Four Dances for Flute and Violin. 9:07

[15] Debussy: Syrinx. 2:39

[16]-[18] Martinu: Trio for Flute, Viola and Piano. 20:59

[19] Encore: Martinu: Trio for Flute, Violin and Piano (Scherzo). 3:21

Moyse Trio II
Blanche Moyse, Violin and Viola.
Louis Moyse, Flute.
Denise Bidal, Piano.
White Plains, N.Y., Nov. 4, 1961.
---
We Also Recommend
---