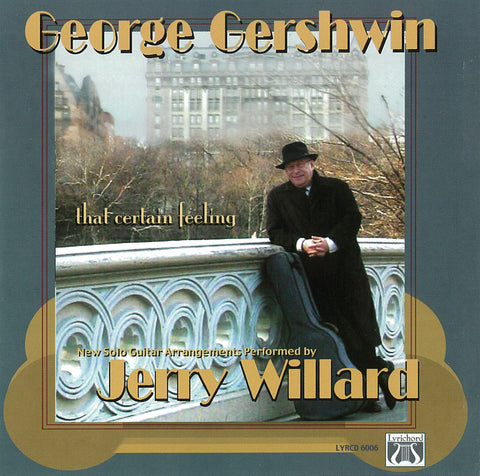 George Gershwin: That Certain Feeling DOWNLOAD ONLY LYR-6006
---
---
Digital Download available from your favorite site including
Download free liner notes below (Mac users use Ctrl + click)
From the moment in 1916 when he published his first song until his untimely death in 1937, George Gershwin transformed and revolutionized American pop, jazz, dance, rag, Broadway and classical music in more profound ways than anyone has before or since.
Here, virtuoso guitarist Jerry Willard plays 17 of his own brand-new arrangements for solo guitar of classic songs penned by the great George Gershwin.
Included are many of the American master's most beloved tunes, including "Swanee," "I Got Rhythm," "Someone to Watch Over Me" and "Summertime" — as well as many equally infectious ditties, like "Scandal Walk," "Idle Dreams," "Do It Again," and the title track, "That Certain Feeling".
Not since Gershwin recorded his own legendary piano arrangements on reproducing-player piano rolls has there been such an exciting and essential new realization of the work of this great American musical genius.
WHAT CRITICS ARE SAYING
ABOUT "THAT CERTAIN FEELING":
"…[Willard's transcriptions are] technically complex, free in rhythm, and evocative of improvisation. The result is an unusual tour through Gershwin's hits, with a consistently high level of playing and a meditative yet precise sensibility largely unlike that heard in the many thousands of jazz treatments of Gershwin's tunes. It's as if a lutenist from the olden days had somehow been deposited in a Jazz Age hotel lounge. Reactions to this kind of playing will be personal, and sampling one of the more harmonically complex pieces, like Someone to Watch Over Me, track 11, will give the buyer an idea of his or her own…"
James Manheim All Music Guide April, 2007

"...For purists, divorcing music from its originally intended instrument is tantamount to creative criminal activity. So much music, however, thrives on and benefits from being reborn into a new setting. George Gershwin tunes have long been prime examples of the latter. Jerry Willard's new Lyrichord disc of seventeen arrangements of classic Gershwin numbers breathes new life and energy into this quintessential American voice while at the same time preserves the authentic spirit of the music by relaying primarily on piano rolls and transcriptions made by the composer himself.
The result in a beautifully crafted and inspired record full of the effortless charm and character one associates with Gershwin's music. Moreover, from the outset Willard establishes a subtle swing and phrasing that gives the disc stylistic unity and brings out the intelligent coolness in the lovely ballad "So Am I", one of the recording's interpretive gems. Voice leading is also expertly handled here and throughout the CD particularly in "Do It Again", where a lyrical melody is gently carried on the bass strings. In more upbeat numbers like "I Got Rhythm" and "Swanee" the music is crisp and full of head-bobbing dynamism. The recording quality is rich and resonant and Willard's sound is attractive, sturdy but also perfectly nuanced to the vocal nature of the material."
-Paul Cesarczyk, Guitar Review, Summer 200
Tracks:
1.
That Certain Feeling
- 3:09
2.
Scandal Walk
- 2:23
3.
Do, Do, Do
- 3:13
4.
Sweet And Low Down
- 2:26
5.
Do It Again
- 2:10
6.
I'll Build A Stairway To Paradise
- 1:39
7.
Idle Dreams
- 2:35
8.
Summertime
- 3:13
9.
Liza
- 2:35
10.
My Man's Gone Now
- 4:47
11.
Someone to Watch Over Me
- 4:40
12.
Swanee
- 2:16
13.
So Am I
- 5:10
14.
Lady Be Good
- 3:12
15.
Looking For A Boy
- 3:20
16.
'S Wonderful
- 1:34
17.
I Got Rhythm
- 2:18
Listen to the Lyrichord Early and Classical Music Show Podcast episode which features this album!
Additional Information
Go to Jerry Willard's website.
---
We Also Recommend
---