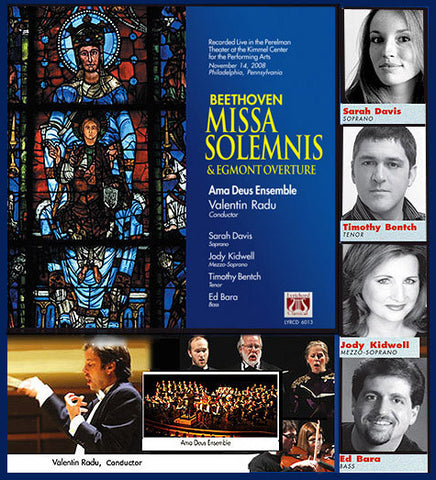 Beethoven: Missa Solemnis & Egmont Overture DOWNLOAD ONLY LYR-6013
---
---
Digital Download available from your favorite site including
Download free liner notes below (Mac users use Ctrl + click)
A brand-new, tour de force recording of Beethoven's liturgical masterwork, in which Valentin Radu conducts a stellar group of soloists—soprano Sarah Davis, mezzo-soprano Jody Kidwell tenor Timothy Bentch, and bass Ed Bara. This Philadelphia-based group is comprised of that city's finest professional choral singers and players,. Recorded live in the in the sumptuous acoustic of Philadelphia's legendary Perelman Theater at the Kimmel Center for the Performing Arts.
Produced by John Ostendorf
Stephen J. Epstein, recording engineer.
Recorded live in the Perelman Theater of the Kimmel Center for the Performing Arts, Philadelphia PA
Tracks:
1 Egmont Overture, Op. 84A (8:12)
Missa Solemnis, Op.123
2 Kyrie eleison (3:16)

3 Christe eleison (1:36)

4 Kyrie eleison (3:25)

5 Gloria in excelsis (2:46)

6 Gratias agimus tibi (2:15)

7 Qui tollis peccata mundi (5:04)

8 Quoniam tu solis sanctus (6:19)

9 Credo in unum deum (3:20)

10 Et incarnatus est (2:11)

11 Crucifixus etiam pro nobis (3:04)

12 Et resurrexit tertiam die (2:28)

13 Et vitam venturi (6:00)

14 Sanctus (3:30)

15 Benedictus (11:12)

16 Agnus Dei (6:00)

17 Dona nobis pacem (7:59)
Go to the Vox Ama Deus website!
---
We Also Recommend
---