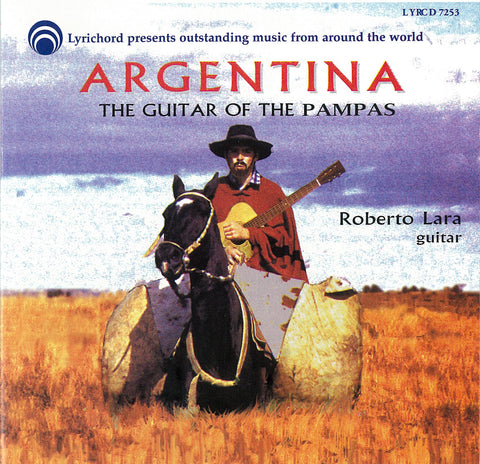 Argentina: The Guitar of the Pampas - Roberto Lara - DOWNLOAD ONLY LYR-7253
---
---
Digital Download available from your favorite site including
Download free liner notes below (Mac users use Ctrl + click)
At night after work, after eating a simple meal and sharing the customary Mate (popular herbal tea), los peones (the workers), typically would start dancing and singing improvisations or telling stories of their ancestries, usually to the strums and melodies of a European guitar.
The passionate musical expressions of these new people (who are known as Los Gauchos or Criollos) find their voice in the solo guitar of Argentine master, Roberto Lara. An extraordinarily beautiful collection of guitar pieces from Argentina that deserves a place in every world and classical collection.

Solo guitar master Roberto Lara presents the music of "Los Gauchos" from the province of La Pampa, the heartland of Argentina. On this recording, Lara celebrates the compositions of Abel Fleury, a pioneer of classical folkloric Argentinian music, with works in seven distinct styles; all of which make up the Pampa influence. 18 tracks with notes by Jorge Alfano. 
Tracks:
1. Ausencia [Milonga] - 2:41
2. El Codiciado - 4:12
3. Trinos y Alas - 2:02
4. El Tostao - 2:21
5. Fortin Kakel [Milonga] - 4:17
6. De Sobrepaso [Milonga] - 1:51
7. Tonada - 3:10
8. Te Vas Milonga [Milonga] - 1:44
9. Pico Blanco [Milonga] - 2:31
10. Lejania - 2:41
11. Pago Largo - 2:14
12. El Cuando - 3:35
13. Milongueo del Ayer - 2:25
14. Cantar de Mi Pago - 3:11
15. A Flor de Llanto [Milonga] - 2:22
16. Vidalita - 4:10
17. De Clavel en la Oreja [Milonga] - 2:37

Review
---
We Also Recommend
---