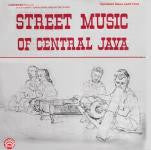 Street Music of Central Java LAS-7310
---
---
Digital Download available from your favorite site including
Part of the Lyrichord Archive Series - Never before released recordings on CD from the Lyrichord vaults

Although, in recent years, many Westerners have been exposed to the beautiful and timeless sounds of the court gamelans of Central Java, very few have heard the remarkable folk version of this music tradition called siteran barangan (or cokekan or simply siteran). Siteran music is performed by wandering musicians in the streets and marketplaces of densely populated cities like Jogja-karta and Surakarta rather than by specially trained musicians in the palaces of these same Central Javanese cities. This is the "street" music of Java, unlike most Javanese recordings today. These selections were recorded in 1975 in Jogjakarta

Tracks:
1. Ketowoug Puspawarna, slendro patbet Mamyara - 12:09
2. Gendhing Dolanan, slendro pathet sanga - 5:06
3. Gendhing Gambir Sawit, slendro pathet sanga - 5:25
4. Pathetan; Bawa Sekar-Ageng Tepi Kawuri; Gendhing Montro, slendro pathet manyura - 22:20

Lyrichord, in association with Multicultural Media, is pleased to present the Lyrichord Archive Series. This series will make many important Lyrichord recordings of the past available again for the first time in years. These are special-edition compact discs with liner notes. illustrations and photographs reproduced as .pdf files, and included right on the same CD as the audio program. These liner notes can then be downloaded and printed out or saved on any computer.

The Lyrichord Archive Series is designed with students, libraries, educational institutions, music historians and music enthusiasts in mind and is not available in stores.
---
We Also Recommend
---