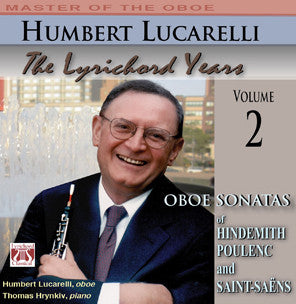 Oboe Sonatas of Hindemith, Poulenc and Saint-Saëns - DOWNLOAD ONLY LYR-6022
---
---
Digital Download available from your favorite site including
Download free liner notes below (Mac users use Ctrl + click)
One of Humbert Lucarelli's finest showcases of his instrument artistry ever recorded, "Oboe Sonatas" is a welcome reissue for Oboe enthusiast the world over. The recording starts with American Paul Hindemith. His two movement Sonata for Oboe and Piano was written in 1938, and has remained a benchmark for oboists ever since. Francis Poulenc's Sonata for Oboe and Piano (1962) was written during Poulenc's final year in memory of the Russian composer Sergei Prokofiev, and represents a tour d' force in oboe repertoire, and also the last work Poulenc wrote. French master composer Camille Saint-Saëns displays his deep affinity for the instrument in Sonata for Oboe and Piano, a work which concludes in a movement of dazzling pyrotechnic virtuosity.

Another French composer of the late nineteenth/early twentieth century is Charles-Édouard Lefebvre, whose Deux Piéces pour le Hautbois, provide a delightful compliment to the demanding and powerful work of Saint-Saëns. Humbert Lucarellli's legendary Oboe Sonatas album, still serves as a high water-mark in the history of oboe performance. Newly re-mastered by Lyrichord's Nick Fritsch, in association with Humbert Lucarelli.

Click here to watch exclusive music video "Water Everywhere".
Click here for New Release Sheet
Sonata for Oboe & Piano, 1938
Composer: Paul Hindemith
01 Munter  4:15
02 Sehr Langsam  8:25  
Sonata for Oboe & Piano, 1962
Composer:  Francis Poulenc
03 Elégie  4:41
04 Scherzo 4:04
05 Déploration  4:28   
Oboe Sonata in D Major, Op. 166, 1921
Composer: Camille Saint-Saëns
06 Andantino  3:15
07 Allegretto 5:35   
08 Molto Allegro   2:37
Two Pieces for Oboe and Piano
Composer:  Charles-Édouard Lefebvre
09 Andante 3:40   
10 Allegro 2:34   
Humbert Lucarelli's website: 
http://humbertlucarelli.com
---
We Also Recommend
---