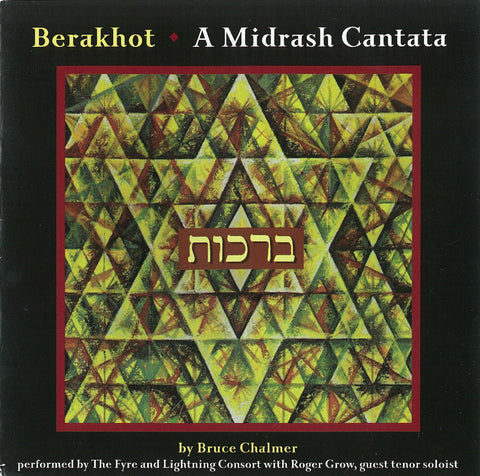 Berakhot: A Midrash Cantata MCM-4006
---
---
Digital Download available from your favorite site including
Vermont composer Bruce Chalmer's musical work, called Berakhot: A Midrash Cantata, is an exploration of Jewish-American life, using prayers and texts on the theme of berakha (blessing) as points of departure. "Language, prayer, breath itself-all these can be experienced as forms of music in Jewish tradition," says Chalmer. "And I've always been fascinated by the diversity of expressive styles available in Judaism, especially in an American context. Put those ideas together, and you get an idea of this work."
The 26 pieces that form the cantata, each a midrash (associative interpretation) of a particular berakha or related text, are scored for a variety of voices and instrument combinations, in musical styles including medieval- and renaissance-like polyphony, barbershop quartet, klezmer, blues, doo-wop, a touch of reggae, and others. The forms of the pieces include original poetry set to music, musical settings of liturgical texts in Hebrew, English, or both, and musical compositions without words.
The program notes that accompany the music (found on a PDF file on the enhanced CD itself) are a major part of the work. Laid out in Talmudic fashion, the program notes present the text of each piece (including transliteration and translations of the Hebrew texts) surrounded by the composer's commentary. Surrounding all of this on each page is original artwork by internationally known artist Diane Sophrin.
"I'm delighted to be performing this with Fyre and Lightning," said Chalmer, who was one of the founding members of the five-member early music group in 1974. All the other members of the group are present or former members of the Nisht Geferlach Klezmer Band, and they have recorded Sephardic and other traditional music as well as Dennis Murphy's cantata, A Perfect Day. "And we'll be joined by Roger Grow, a wonderful tenor soloist who also performed with us on Dennis's piece," said Chalmer. "Being able to work with such versatile musicians was a great inspiration as I wrote the cantata."
The Fyre and Lightning Consort is a five-member early music group founded in 1974 consisting of Bruce Chalmer (recorders, percussions and vocals), Dennis Murphy (bassoon, string bass, viola da gamba, recorder, percussion and vocals), Ellie Hayes (vielle, recorders, whistle, dingle and vocals), Kathy Munson Light (harp, guitar, clarinet and vocals), and Steven Light (string bass, lute, guitar, trumpet, viola da gamba, recorders and vocals).
Roger Grow (guest soloist, trombone and percussion) sings with Robert de Cormier's Counterpoint, VoxFour, and AH! Capella. He has performed at Carnegie Hall, with the Dartmouth Chamber Singers, and with the Middlebury College Choir
The CD was produced by Stephen McArthur, John Ryan, and Bruce Chalmer at McArthur's Dog River Studio. 
Listen to Samples
Kol Sason Vekol Simcha (Joy and Gladness)
Meshane Habriyot (Diverse Creatures)
---
We Also Recommend
---