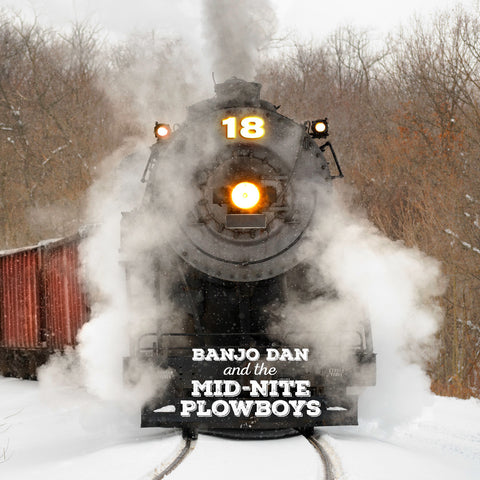 Banjo Dan and the Mid-Nite Plowboys: 18 MCM-4021
---
---
Digital Download available from your favorite site including
It's bluegrass – but with a difference. The sound is there: the driving banjo, the edgy mandolin and searing fiddle, guitar runs that weave through their interplay like a Dixieland trombone, and a rock-solid bass locking down the rhythm and the soulful vocal harmonies.
But Banjo Dan and the Mid-Nite Plowboys come from Vermont, a state far from the Southern epicenter of bluegrass music, and their songs, like the northern explorers of a bygone era, roam freely to the outskirts of the American experience – the human experience. Songwriters Dan Lindner, Eric ("Willy") Lindner, and Alan Davis craft ambitious, visual narratives, telling stories of sailing ships and logging camps, the Canadian wilderness, and a stark New England burial ground; there's a locomotive charging across Vermont's green countryside, and a blackbird perched, silent and ominous, on the branch of a maple tree. And of course there is love – sweet, fulfilling love on the one hand, loneliness and despair on the other.
Then there are the instrumentals, dynamic and exploratory, with roots in Bill Monroe's bluegrass tradition, but also in traditions found far from Kentucky, in the homelands of their forebears.
On these 18 selections, released on Multicultural Media's Rootstock Recordings, Dan, Willy, and Al's compositions are brought fully to life by a changing cast of talented band members on vocals, fiddle, bass, and Dobro, with additional contributions from friends on clarinet, keyboards, percussion, and electric guitar. In the main, though, this is bluegrass, one of America's great acoustic traditions, played with passion, originality, and exuberance – and a commitment to the art of the truthful, telling song.
This legendary Vermont bluegrass band was one of a few great regional bluegrass bands to come out of the early 1970s spread of bluegrass music around the US, and elsewhere. Their legacy is clearly enshrined in this collection of original music penned and performed by the three founders.
Here are the titles:
Green Mountain Special
Death Come Down to Danville
Widow's Walk
Yankee Requiem
Coal Black Train
Aremel
Time and Love
The Last Timber Wolf
Ice Out (The King of Bangor)
Oat Mountain
Yonder River
Fire in the Sugarhouse
In the Dead of Night
Karelia
Blue Sea Blues
Blackbird
Just Three Days
Good Luck
---
We Also Recommend
---